Deer Valley Lakeview Lodge Campaign
2020 LAKEVIEWPALOOZA - The Boiler Room - 1070 Banksville Avenue | Pittsburgh, PA 15216
MARCH 28 | Doors Open at 7:00pm, Show Starts at 8:00pm
LakeviewPalooza is a fundraising concert benefiting the Lakeview Lodge rebuild at Deer Valley YMCA Family Camp. All proceeds will go to the Lakeview Lodge Capital Campaign.
AT THE HEART OF IT ALL – LAKEVIEW LODGE
Situated at the very heart of Deer Valley's 740 acres, Lakeview Lodge has provided four season accommodations for those who prefer, or need to be at the center of camp. Now 46 years old, the building is tired, outdated and inefficient. A new Lakeview Lodge – one that supports our strategic initiatives – is required.
AMENITIES WILL INCLUDE: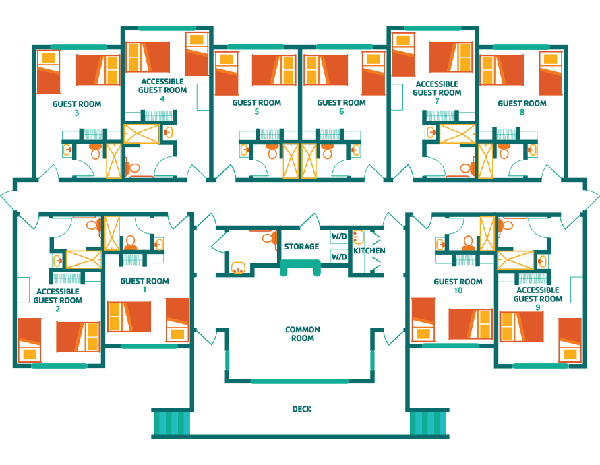 Four season accommodations with easy access for campers with limited mobility

Central location with convenient access to the dining hall, chapel and water front

Golf cart parking

10 rooms, each sleeping up to 5 persons

En suite bathrooms

4 rooms and bathrooms will be ADA accessible

Improved sound insulation

Kitchenette

Expanded common space for group activities

Expanded porch to enjoy those famous Deer Valley sunsets
To make a gift, please enter your information below or download and complete the Commitment Form today.
Gifts of $1,000 or more may be fulfilled over a two-year period.

Gifts of property or appreciated stock are welcome.

Prospective donors aged 70 ½ may wish to speak with their financial advisors about Required Minimum Distributions (RMD) from their IRA. It's a great way to support Deer Valley and reduce your tax burden. Learn more about RMD.
For further information please contact Dave Riether at 800 962 2386 or [email protected]
Deer Valley by the Numbers
A PROUD HISTORY OF CAMPING
Over 7,500 campers every year, including over 3,000 family campers

1,850 students, parents and teachers participate in the Environmental Education Program each year

Almost 2,000 other campers including Y Guides and Princesses, Women's Week, Quilters, Church Groups, Retreats, and Family Reunions

Drawing campers from 37 states – with 8 families celebrating more than 50 years at Deer Valley!
LEADERSHIP DEVELOPMENT
23 board members who have given countless years of service and financial support

A Next Generation Board - laying the groundwork for tomorrow's board leadership

More than 40 Clippers and Salts serving annually – preparing our youth for future leadership
COMMITTED TO OUR COMMUNITY
The Deer Valley Educational Fund makes sure that students from 6 local schools are able to experience the full benefit of camp and its educational opportunities through the Environmental Education Program.

Other local partnerships include Community Sledding days, 3D Archery for Keystone Warriors, Fishing Derbys
YMCA OF GREATER PITTSBURGH INVESTMENTS
Over the last five years the YMCA of Greater Pittsburgh has invested $1 million into Deer Valley, including almost $790,000 for the Waste Water Treatment Plant.