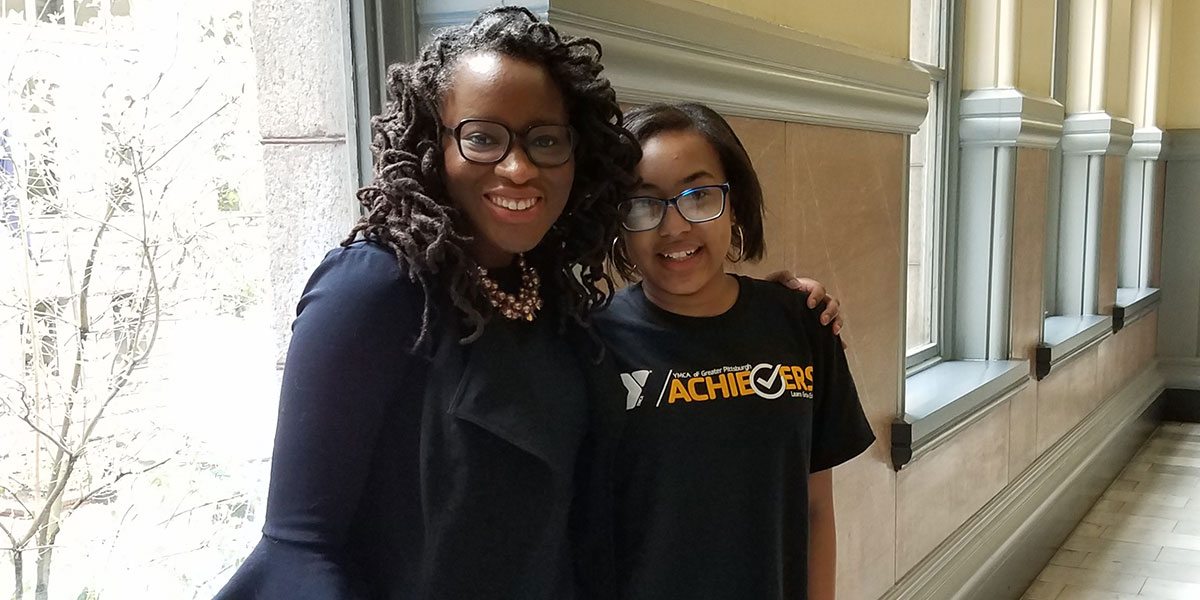 Student Registration   Adult Achiever Inquiry
YMCA Y Achievers Program - Learn, Grow, Excel.
Y Achievers is a national academic achievement and career development initiative of the YMCA of the USA purposed to help teens set and pursue high educational and career goals, resulting in graduation and acceptance to an institution of higher learning.
The Pittsburgh chapter of Y Achievers intentionally introduces teens in grades 7-12 to professionals who guide them through experiences - ranging from civic engagement, community service projects, and academic support - that ready them for life after high school, In Y Achievers, students make new friends, learn healthy lifestyle choices, and prepare for their future.
Program Objectives:
Expose youth to career and college knowledge through the lens of professionals who look like them. We believe that children cannot aspire to be what they cannot see.
Help youth develop individual talents, a positive sense of self, and leadership ability.
Motivate participants to raise academic performance, succeed in school, and gain marketable skills.
Adult Achiever Opportunities
Adult mentorship is by far the biggest asset of Y Achievers. Adult Achievers provide an invaluable connection between the
corporate world and the local community by developing and conducting programming that allows participants to become linked to education, business and industry.
Career Cluster Leader
Assist in the design and implementation of workshops and projects related to specific careers of interest or expertise. This is a Saturday commitment during the Academic School Year.
Adult Achiever Program Leader
Lead the implementation of workshops and other activities geared toward helping programs participants improve their knowledge of the college-going process, personal/professional etiquette, public speaking and other topics within the five programmatic thrusts. Assist in the design and implementation of workshops and projects related to specific careers of interest or expertise. This is a year long in school (weekday) program commitment during the Academic School Year. (At least once per month)
Guest Speaker
Share your professional journey and life's passions by serving as a guest speaker for the middle school or high school program. This is a one-time volunteer engagement.
Available Speaking Opportunities:
Urban Pathways 6-12 Charter School
Wednesdays from 9:00 to 11:30
914 Penn Ave # 300, Pittsburgh, PA 15222
Homewood-Brushton YMCA
Saturdays from 10:00 to 1:00
7140 Bennett St, Pittsburgh, PA 15208
Corporate Opportunities
Is your company looking for ways to give back? Y Achievers has several opportunities for them to support our efforts
to mentor youth for the future of tomorrow. Corporate sponsorships increase our capacity to provide quality programming,
offer workshops, take field trips, and expand the support services offered.
For more information regarding the program, please contact
Jose A. Diaz, MSW
Director, Hope For All & Y Achievers
412-436-0524
Watch to see Y Achievers program and the benefits.